Charles Molett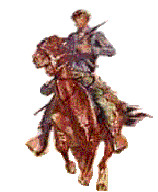 *Charles Caldwell Molett
Charles Caldwell Molett joined 3rd Alabama Cavalry, Company F on 13 October 1863 at the age of 17 years. He was enlisted, by Capt. W. R Cole, as a private. It is possible that he actually joined with the unit while they were in Lafayette, Georgia. Only 3 months later he was killed in battle on January 27, 1864 during a skirmish near McNut's Mills in East Tenn.
Charles is also listed as C C Molette.
He was born in 1846 in Dallas county, Alabama. He died on 27 Jan 1864.
However a story about him has come to light. This was written by Private Thomas L. Fuller of this same company.
"After a couple of days of heavy marching and fighting, General Longstreet called for a dismounted scout, for a special purpose. Three men from Co. F. 3rd. Alabama were selected-- Charley Molett, Morrison and your Uncle Fuller.
I don't remember whether the other three men were from Co. F or not. At any rate we were under the command of Lieutenant Mims. We were ordered to the picket post and there dismounted-- left our horses and "go until we found the enemy, fire on them without halting". It was so dark we could not see our hands before us. If we were in mud and water, we were in the road and otherwise we would be up against a fence of bushes.
We had traveled four or five miles when we came to a house where a bright light was burning. The Lieutenant told me to go in and see if the people could tell me how far it was to the picket post. The man said it could not be far, as they were getting water at the house.
Molett and I took the lead. We found the enemy and the outpost picket was fast asleep. I whispered to Charley Molett, saying "You stand here and don't move until I get back". I showed Mims the man on his horse, asleep, also Charley Molett. Mims could have put his hand on Charley. I whispered to Mims to let the picket alone and get the other boys and kill all those reserve pickets as long as they stood around the fire. And the Son-of-a-Gun would not do it. Mims was standing close to Charley and he ordered me and Morris to shoot the man off his horse. In the meantime, Mims shot Molett. When Charley told me he was shot, I got to him as quick as I could and we had no time to tarry.
I called for Morris and we locked arms and put out to the house where we had stopped for information. I told the man I wanted to see how badly my friend was hurt. I found that the ball did not penetrate the hollow. I said "Jump up, Charley, you are not hurt much". I asked the man if he had a horse, bridle and saddle. He said he did and we could have it. I told him the officers would return the horse in the morning.
We, Charley in the saddle and I got up behind him and it must have been 10 o'clock when we got back to camp. Dr. Allen met us and we took Charley to a private house and in a couple of weeks he was in camp, about well. But unfortunately, Charley was killed in the first battle afterwards."
for more click here
Virginia Molett Hamlett, great grand niece of Charles, told me that when Charles died his brother William Page Molett II brought him home to be buried. Charles is buried in the Confederate Veterans Section of Old Live Oak Cemetery in Selma, Alabama.
Charles' grandfather was William P. Molett who owned 300 slaves in 1850. His wife was Margaret A. Ulmer and they lived and raised their family in Dallas county.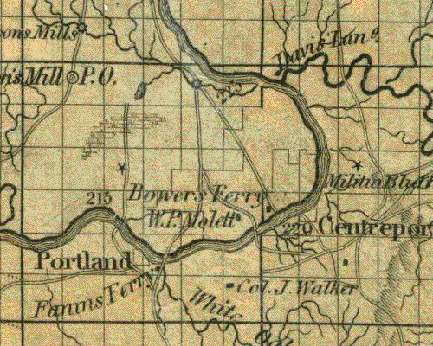 This is a little picture showing the where William Molett settled in Dallas county.
Charles' father was John Ulmer Molett ( son of William). John was a planter also in Dallas County. In 1850 he owned 27 slaves.
John married Virginia Susan Caldwell. Virginia was born in 1823 in Virginia. Here are paintings of John Ulmer Molett and his wife Virginia Susan Caldwell. Digital images from Sandra Mann Oakley.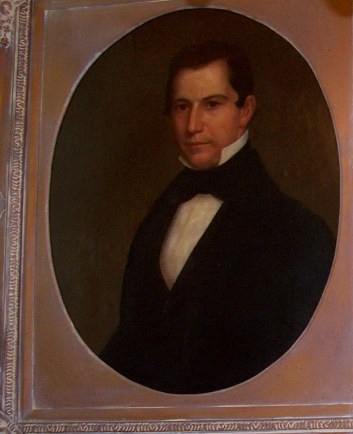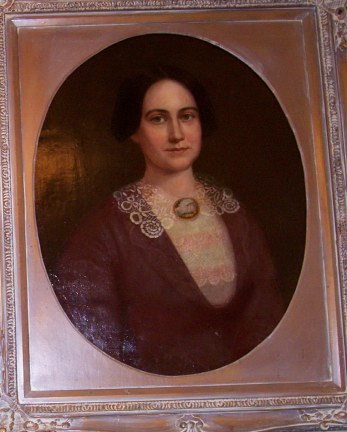 They had the following children:
F i. Margaret A. Molett was born in 1841 in Dallas county, Alabama.
M iv.
*Charles C. Molett
was born in 1846 in Dallas county, Alabama. He died on 27 Jan 1864.
F v. Eliza S. Molett was born in 1848 in Dallas county, Alabama.
F vi. Virginia Molett was born in 1849 in Dallas county, Alabama.
M vii. Edward Molett was born in 1850.
F viii. Mary C Molett was born in 1853 in Dallas county, Alabama.
Sources
1. United States. Record and Pension Office., Compiled Service records of Confederate soldiers who served in organizations from the state of Alabama., Washington C. C. : The National Archives, 1961-1962.Third Alabama Cavalry L-Q 1861-1865 FHL#08803340.
2. 1850 Federal census, Alabama, Dallas County, Boug Chitto, page 85,86.
3. 1860 Federal Census, Alabama, Dallas, Orrville Beat page 931.
4. Virginaia M Hamlett granddaughter of William Page Molett II.
If you are a descendant or have stories or memorabilia about this unit contact Susette Cook.
susette_cook@hotmail.com
susette_cook@hotmail.com
By Susette Cook